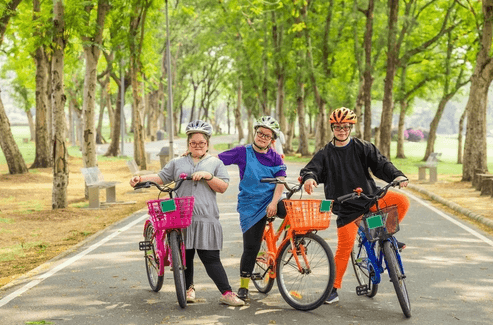 Programs & Camps for Teens & Adults - Updated 7/15
MUSIC CAMP - TONEWORKS MUSIC THERAPY (EDINA) - Mon-Fri 9:00AM-12:00PM
We are so excited to announce that Toneworks is partnering with DSAMn again this summer to offer three weeks of DSAMn Music Camp. We have a session dedicated to teens & adults (9th grade through adult). Camp is through from 9AM - Noon. This is a drop off class located at Toneworks in Edina, MN. Costs is $150 for the 5-day camp.
July 18th-22nd - ages Tween through Adult (ages 6th grade to adult)
Register here:

http://weblink.donorperfect.com/dsamnmusiccamp



IMPROV CAMP - DSAMN CONFERENCE ROOM (ST.PAUL) - Mon-Wed, various times, 7/18-7/20
Join us July 18th - 20th for our second annual Improv Camp. This includes 3 days of camp where troupes will learn improv techniques, practice games they've been doing online, and create a performance for the showcase. Parents, family, and friends will join the last half hour of day three for a very special showcase! This is a drop-off class. If your loved one needs one-on-one support, please sign them up and email sarah@dsamn.org. We will work together to create a plan to support. Cost $100 per participant.
Teen & Adult AM Troupe (ages 16+) - Monday, Tuesday, Wednesday from 10:00 - Noon
Tweens & Teens Troupe (ages 10 - 15) - Monday, Tuesday, Wednesday from 1:30 - 3:30PM
Teen & Adult PM Troupe (ages 16+) - Monday, Tuesday, Wednesday from 4:00 - 6:00PM
Register here:

http://weblink.donorperfect.com/CampImprov



TEEN & ADULT PUPPETRY CAMP - DSAMN OFFICE (ST.PAUL) - Mon-Wed, 5:30-7:30PM, 8/22-8/24
For individuals with Down syndrome ages 16+. Participants will explore what it means to be a good friend and a part of a community using puppetry to express their creativity and individuality. Participants will craft their own puppets for use in this class. Using puppets and object theater, we will explore and enact what our values are as friends and create theatrical scenarios in order to practice friendship and connection with one another. Participants will also work on active listening skills and practice asking questions. This class will conclude with a final puppet performance for parents and friends! All materials and supplies will be provided. Cost is $75 per participant.
Register here:

http://weblink.donorperfect.com/CampPuppet



Programs & Camps for Tweens - Updated 7/15
MUSIC CAMP - TONEWORKS MUSIC THERAPY (EDINA) - Mon-Fri 9:00AM-12:00PM
We are so excited to announce that Toneworks is partnering with DSAMn again this summer to offer three weeks of DSAMn Music Camp. We have a session dedicated to teens & adults (9th grade through adult). Camp is through from 9AM - Noon. This is a drop off class located at Toneworks in Edina, MN. Costs is $150 for the 5-day camp.
July 18th-22nd - ages Tween through Adult (ages 6th grade to adult)
Register here: http://weblink.donorperfect.com/dsamnmusiccamp

IMPROV CAMP - DSAMN OFFICE (ST.PAUL) - Mon-Wed, 1:30-3:30PM, 7/18-7/20
Join us July 18th - 20th for our second annual Improv Camp. This includes 3 days of camp where troupes will learn improv techniques, practice games they've been doing online, and create a performance for the showcase. Parents, family, and friends will join the last half hour of day three for a very special showcase! This is a drop-off class. If your loved one needs one-on-one support, please sign them up and email sarah@dsamn.org. We will work together to create a plan to support. Cost $100 per participant.
Tweens & Teens (ages 10 - 15) - Monday, Tuesday, Wednesday from 1:30 - 3:30PM
Register here: http://weblink.donorperfect.com/CampImprov

YOUTH PUPPETRY CAMP - DSAMN OFFICE (ST.PAUL) - Mon-Wed, 5:30-7:30PM, 8/15-8/17
For individuals with Down syndrome entering 5th grade through high school. Participants will explore what it means to be a good friend and a part of a community using puppetry to express their creativity and individuality. Participants will craft their own puppets for use in this class. Using puppets and object theater, we will explore and enact what our values are as friends and create theatrical scenarios in order to practice friendship and connection with one another. Participants will also work on active listening skills and practice asking questions. This class will conclude with a final puppet performance for parents and friends! All materials and supplies will be provided. Cost is $75 per participant.
Register here: http://weblink.donorperfect.com/CampPuppet
Programs for Younger Kids - Updated 7/15
SUMMER SPEECH CIRCLES - BROOKVIEW PARK (GOLDEN VALLEY ) - Thursdays, Classes start 7/14
There is still room to join Rheanne Lewis, M.S. CCC-SLP for Summer Speech Circles, starting July 14th! If you are the parent or caregiver of a child 12 months to 6 years, this is a program for you. This is a parent/child class. The class meets weekly for 6 weeks - July 14th through August 18th.
9AM - Toddler/Transition Age Skills (recommended age 12 mos. to 4 yrs.)
10AM - Pre-K/Ready for K Skills (recommended age 3 yrs. to 6yrs.)
Cost $40 for the session.
Register here: http://weblink.donorperfect.com/summerspeech
Program & Camp Scholarships and Financial Support
Cost should not be a barrier to participation in any DSAMN program. All our programs are offered on a sliding fee scale based on Federal Poverty Level Guidelines. Families living at or below 200% if FPL are eligible for the sliding scale.
If fees are an issue for any family even if you do not meet the guidelines above, please email dsamn@dsamn.org - we can help