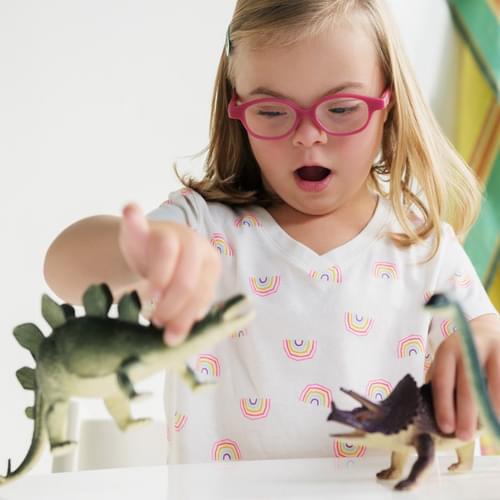 During the pandemic, DSAMN has offered more than 2,000 hours of virtual programming to serve individuals with Down syndrome of all ages as well as their families and friends.

DSAMN's programs for youth and adults with Down syndrome:

Develop social, personal. and employment skills.
Build friendships, networks, and communities.
Create joy.
DSAMN's programs for parents:
Give parents a community and network of peers and mentors.
Support parents and help develop skills and tools that increase parental confidence, personal advocacy, and mental wellness.
Provide opportunities to learn from experts in the field and the latest, most up-to-date information.
View All Events
Programs for Youth & Adults with Down Syndrome
DSAMN's iCan Bike Camp
Bike camp is for people with disabilities ages eight and up. Research shows that over 80% of people with Autism and 90% of people with Down syndrome never learn to ride a two-wheel bicycle. The iCan Bike program resulted from more than twenty years of research by Dr. Richard E. Klein, a mechanical engineering professor, and his students at the University of Illinois at Urbana-Champaign. Dr. Klein retired from his academic career at the University of Illinois in 1998 and held the first bike camp in 1999 in La Crosse, WI.
Camp is for individuals ages 8 and up.
For more information on the program and our partner, iCan Shine, click HERE.

ToneRocks Choirs
ToneRocks is an adaptive choir for individuals with Down syndrome. This is a eight-week program that combines singing, breathing exercises, and songwriting. The choir meets once a week for 60 minutes. At the end of the session the choir will hold a short program of pieces to be performed virtually for family and friends.
Choir costs $15 per participant per 8-week session.

Our Adult Choir (ages 18+) meets once per week on Wednesdays at either 1PM or 6PM.
Click HERE to register for the adult choir.
Our Teen Choir is just for individuals in 7th through 12th grade and meets each Thursday at 4PM.
Click HERE to register for the teen choir.
Performing Arts Programs
Our teen and adult performing arts classes are a perfect way to explore the arts and develop social skills, express feelings and emotions, and build personal advocacy and storytelling skills. Our arts program offerings range from musical theater to puppetry to comedic theater - we even have a class that explore the theatrics of the WWE. Each program is eight weeks long. The class meets once a week for 60 minutes. At the end of the session the class will perform virtually for family and friends.
Most classes are open to people in 7th grade and older, unless designated otherwise.
Our performing arts programs cost $15 per participant per 8-week session.
Click HERE to learn about our current offerings and/or to register.
Improvaneers Online
Improvaneers is a 5-week online class that helps build and develop cognitive skills that increase social and workplace opportunities. Classes meet once weekly. Each class is 45-60 minutes and has a unique curriculum of improv games! Plus, participants will be given Improv-At-Homework with exercises and games the whole family can continue throughout the week! Improv has been proven to build Quicker-Thinking, Problem Solving, Self-Confidence Eye Contact, Teamwork, Listening Voice Projection, and Focus!
We offer a youth (ages 10 - 15) and adult (ages 16+) program.

Improvaneers costs $25 per participant per 5-week session.


Click HERE for more information on our current or upcoming sessions and/or to register.



Programs & Services by Age