Our People
Everyone at DSAMn has a personal, profound commitment to the families we serve, and are here to connect, to listen, and to find answers for any question or need you have.

Program Management & Staff
Sarah Curfman

Here to: Lead in organizational strategy, fund development, member satisfaction and day-to-day operations as Executive Director.
Backstory: Sarah brings more than 20 years of nonprofit and leadership experience to DSAMn, and is the founder of Bridge Interim LLC, a firm providing interim leadership and capacity building services for nonprofit organizations, plus was the managing consultant for CLA's nonprofit and public sector practice. She lives in Shakopee with her husband and three kids; her youngest, Felix, was born with Down syndrome.


Tracy Hafeman
Here to: Provide ongoing support for our parent groups, new family outreach, parent-to-parent connections program, as well as our medical outreach as our Parent Program Manager.
Backstory: Prior to joining DSAMn, Tracy spent 14 years teaching special education and was involved with the start-up and facilitation of the Roseville Area Parent Group. Tracy and her husband, Steve, have four children; their second child, Will, has Down syndrome.


Ashley Olthoff

Here to: Provide ongoing support for individuals with Down syndrome and their families as build connections with providers and community partners as DSAMn's Family Connector Program.
Backstory: Prior to joining DSAMn, Ashley was the founding program manager of GiGi's Playhouse – Twin Cities and has served as DSAMN's Minneapolis/West Metro Parent Group facilitator for many years. In addition, she is a licensed early childhood and elementary school teacher. Ashley lives with her husband and two boys in Minneapolis. Her oldest, Oliver, was born with Down syndrome.


Ashley Azar
Here to: Help with donation and program registration questions as well as anything related to office coordination
Backstory: Ashley has a background in business communications, focusing on project management and enjoys helping nonprofits meet their goals by handling the details. When she is not at DSAMn she is working with other organizations near to her heart. She and her husband live in St. Paul and have two children.



Erin To
Here to: Provide ongoing support to our all of our statewide parent groups as they reach families with community and resources in their areas as DSAMn's Parent Group Coordinator.
Backstory: Prior to joining DSAMn staff, Erin was a long time DSAMn volunteer as a facilitator of our South of the River Parent Group where she still enjoys connecting with families in her area. She lives in Lakeville with her three sons. Her youngest son, Ronin, was born with Down syndrome.
Heidi Gage

Here to: Help connect and support families in Southeastern Minnesota as one of DSAMn's Regional Coordinators.
Backstory: In addition to her role as one of DSAMn's new Regional Coordinators, Heidi is a Senior Loan Officer with Mayo's Employee Credit Union and the leader of the Rochester Area Parent Group. She and her husband live in Rochester and have two children. Their youngest, Josie, has Down syndrome.


Lizz Windnagel

Here to: Facilitate our arts and social programming for teens and adults with Down syndrome as one of DSAMn's Program Coordinators.
Backstory: Lizz is an actor, producer and teacher across a number of artistic disciplines. Prior to joining us here at DSAMn, she was part of the team at both Interact and Toneworks working with artists and performers of all abilities.
Anna Lindeberg
Here to: Coordinate DSAMn's annual bike camp
Backstory: While interning for DSAMn, Anna is a student at the University of Minnesota majoring in Economics and Strategic Communication. She became involved with DSAMn through her older brother John, who has Down syndrome.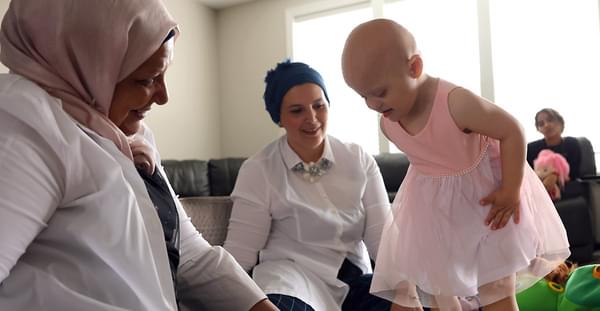 Family Connectors
Here to: Help families connect with resources and navigate healthcare, county services, and educational needs.
Breanna Baker
Backstory: Breanna is a recent graduate Rasmussen College with a degree in health and wellness. She lives in Minneapolis and is a single parent to one son, who is 5 years old and has Down syndrome.
Jordan Carlson-Premack
Backstory: Jordan is a licensed social worker who has experience providing case management to adults with disabilities. Currently, Jordan is returning to school for her MSW in clinical social work and plans on going into mental health therapy.
Lauren Kaplan
Backstory: Lauren comes to DSAMn with a background in education. She has a Master of Arts in Teaching and is a Spanish and ESL teacher. Lauren and her husband, Casey, have three children. Their youngest daughter, Hollis, has Down syndrome.
Anushka Shiell
Backstory: Anushka has a professional background in a very similar role providing information, connection, and support resources to people living with Parkinson's disease. She and her husband, David, live in St. Louis Park.


Yesmean Ragheb
Backstory: Yesmean has a background in interpretation, mainly in the medical field. She lives in Plymouth and is mom to four children. Her youngest, Celine, has Down syndrome. In addition to her role as a family connector, Yesmean co-facilitates the Plymouth/Maple Grove area parent group.