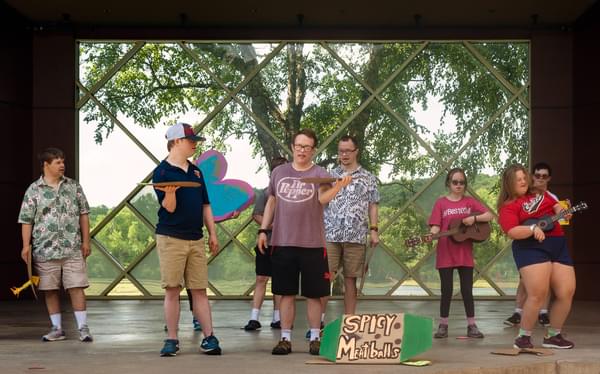 Programs for individuals with Down syndrome, In-Person Events
Saturday Performing Arts
Saturdays @ 10am
Register Here
Share Event
Program Details
For people with Down syndrome in 9th grade through adult.
DSAMN's Saturday performing arts class focuses on skills like collaboration, performance-creation, and creative ideation. Instructors teach acting and performance skills that encourage confidence and creativity both in the classroom and beyond. This class focuses on artist-led and process-based creation. We like to create our own plays and adapt our own versions of plays already written!
This class will rehearse in the DSAMN conference room in St. Paul during September and at HUGE theater in Uptown Minneapolis for the rest of the Fall session.

In Fall 2023, this class will be working toward a performance of Shakespeare's A Midsummer Night's Dream that will be performed at HUGE theater on December 16th. Students must be available for the performance to participate in this class. The Saturday class has been working on this production since the beginning of the year so students in the class have already been cast in the play. Any new students will be fit into the play as chorus or small roles.
Cost = $100.00 per session
Saturdays 10:00am - 12:00pm
Session 4: September 9th - December 16th (no class November 25th)
St. Paul Conference Room/HUGE Theater (Schedule will be provided to participants)
Register here: http://weblink.donorperfect.com/SaturdayPerformingArts

Class contact: lizz@dsamn.org