The simple answer is "YES." Because your child with Down syndrome has a disability, they are eligible for certain county services in Minnesota. However, which services they receive and how they receive them depends on a couple factors.
1. Household Size & Income: These decide how you will gain access to services
2. Daily Needs of Your Child: Needs that go above and beyond a "typical" child at their age decides which county services they qualify for and decides the quantity of a program they will receive.
Accessing County Services
First things first...understanding the process to access county services can be daunting and frustrating. Our Family Connectors can help. They can walk along side you, answer questions, and help you prepare for each step of the process.
Here is an overview of steps.
Step 1: Applying for Medical Assistance. Many of the county services require that your loved one with Down syndrome is on medical assistance (either MA or MA/TEFRA). So often the first step to access services with is to apply for medical assistance (MA). If your household income exceeds the limit for MA, you'll receive a denial letter. Do not let this deter you from exploring your eligibility for county services. This simply means that you'll need to apply for MA/TEFRA instead. MA/TEFRA is the pay in option for medical assistance in Minnesota. Families who have a child with a disability but exceed the MA income limit are required to pay a parent fee to access MA. Parent fees are determined by your household size and income. Some families see these fees and are turned off. They may initially feel that the fees aren't worth it. A few important notes on the parental fees. First, you will NEVER pay in more than you will receive in MA services. Two, in order to access many county programs such as PCA, the CSG grant and waivers, your child with Down syndrome must either be on medical assistance (either MA or MA/TEFRA). In most cases what you qualify to receive from these programs greatly exceeds what you pay in.
Step 2: The SMRT process. After you apply for MA/TEFRA you'll also need to have your child certified disabled through what is called the "SMRT" process. SMRT stands for State Medical Review Team. They will review your child's disability diagnosis documentation and approve their eligibility for MA/TEFRA.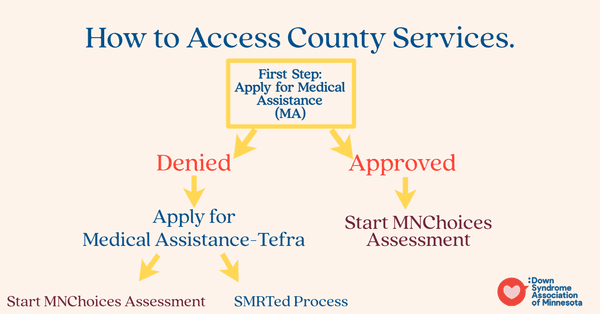 Step 3: The MnChoices Assessment. The next step in exploring county services for your child with Down syndrome is to set up a MnChoices Assessment through your county. Typically this is a two hour assessment/interview, which results in telling you what county services your child is eligible for. During the assessment you will discuss your child's goals, interests, strengths and needs. This is the time to be very clear about the support your child needs and you provide them. Think of your child's needs on their hardest days and share these experiences with your assessor. It may feel uncomfortable to do so, but this honest reflection helps the county to understand your child's needs and ultimately helps to determine the support your child receives.
Once the MnChoices Assessment is completed, the county will let you know what services your child is eligible for. At this point, you'll decide what services best meet your child's needs and you will continue working with the county to get these services set up.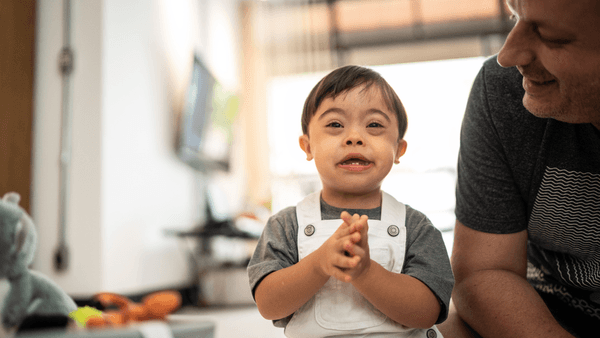 We know, this is a lot of information and it may all sound a bit confusing. It's pretty common for families to feel overwhelmed or unsure of where to start. Here at DSAMN we get it and we are here for you! Our Family Connectors are trained to understand this process and are able to provide your family support and guidance while you go through it. Please reach out to our team and we'll help you get started.